Boiler and Turbine Licensing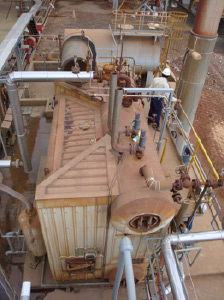 Learning Systems Australia Pty Ltd trading as LSA Power have been a Registered Training Organisation (No31406) since 2006 and have recently opened our dedicated boiler and turbine licensing training centre (the LSA Power Training Centre) in Redland Bay.
We provide High Risk Work Licence (HRWL) training and assessment for the following pressure equipment units of competency:
MSMBLIC001 License to Operate a Standard Boiler
MSMBLIC002 License to Operate an Advanced Boiler
UEPOPL001 License to Operate a Steam Turbine
Our boiler licensing and turbine licensing includes supply of comprehensive training manuals, log books, study guides, formative and summative assessment processes for each learner.
Each training manual is between 125 and 172 pages and ensure the learner is given all the tools required to pass the assessment process. The logbooks ensure sufficient specific tasks are completed by the learner to meet WH&S QLD and ASQA requirements. Study guides are supplied to ensure the learner is put through simulated exam processes prior to final assessment. Learners with LLN issues are given additional cheat sheets with basic wording to assist in their understanding. We also offer additional mentoring on a needs basis. Finally, every learner has email access to a trainer/assessor to ensure all questions that may arise can be answered in a timely manner.
Unattended Boiler Course
AS2593 requires that unattended boiler operations staff must be trained and meet certain basic skill requirements. LSA Power provides a 2 day course covering all the requirements including a competency assessment, certificate of attendance and report for the employer.
Find Us
Training Centre Address:
Unit 3/65 Jardine Street,
Redland Bay Business Park, Redland Bay, QLD, 4165
Head Office And Mailing Address:
35 Calm Waters Cres, Macleay Island, QLD, 4184
Hours: 7:30am–4:30pm Monday – Friday
Ph: 0413 192 241
ABN: 63 108 348 947